Colortest1
My proposal for visual design for the MiniDebConf has been received well. People seem to like the general idea, which worried me the most. If people hated that idea, I'd have to go back and cook something up on Miró…
However, organizers in Spain do worry that the visual expression will be confused with that of a local political party.
I see no danger of that. They use speech bubbles and orange. So does the telecompany Orange (if it still exists) - and Ubuntu.
By the way, I see in this small size that my new choice of font for the speech bubbles is too weak. It needs more work.
It's been suggested I try out a brighter orange.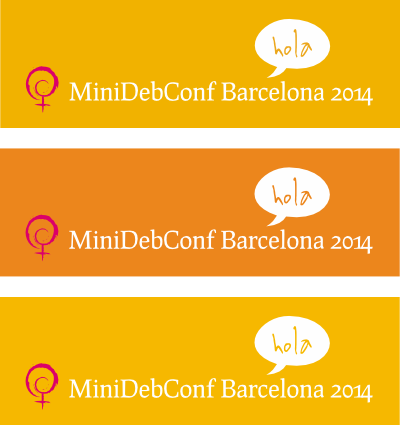 The color in the middle is my original choice, the one at the top is fine, but you can almost tell no difference, when they are not placed closely together.
The same danger of confusion will (not) be there with any orange from "curry" to "crocus".
I show the color in the bottom because it makes it evident how narrow the gap between these colors is - there is very tight room for adjustments. Yellow is too bright and cheap looking, like a discount sign color.
I've looked into other colors, but so far I've not found any good replacement, since I no longer have any gut feeling to hang my hat on, except for the Debian logo color - they have to be a good match. I know I'm free to do whatever, Jonas just reminded me, but of all the colors in the World, thinking of Spain, I only feel orange. Not blue, not green, not purple. Red is already used. Yellow looks cheap. A dusty palette is not uplifting…
I could choose a pink, and that would actually be fun. But pink is not serious. Pink can't be taken seriously. Like women can't?
OK, now it's gotta be pink!

Well, I'm not really serious now.
The serious thing to do for me now will be to watch some Spanish movies to get a new gut feeling about Spain. A dosis of Almodóvar would be suitable. Alternatively I must chat with some Spanish friends.
But maybe, just maybe, the Barcelona organizers will be just as happy with the new orange color as I am. Life can sometimes be that easy.