Event theme concept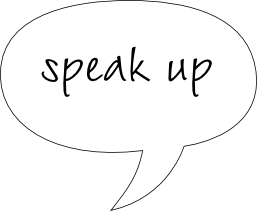 I have a concept idea for a visual theme for the MiniDebConf in Barcelona in March. Speech bubbles with words or short sentences about free speech, equality, brotherhood, collaboration, communicating ideas and free software.
Here are some examples:
No free lunch
Freedom begins in the mind
Freedom, equality, sisterhood
Women can be brothers, too
Just be yourself
Come as you are
I'm as free as I think I am
Speak up
Do what you want
Friendly, encouraging, welcoming and - hopefully - thoughtful, liberating and/or provocative statements or questions.
I'd like to put up a lot of prints with these sentences in the building during the event, alongside some empty ones for everybody to fill in their own statements.
It would also be good to mix speech bubbles and thought bubbles.
Using a speech bubble as a logo component could be a simple, yet nice solution. It could even be a generic branding concept for MiniDebConfs.